From 1909, your home-made patisserie
Elah was the first confectionery company to produce creamy dessert, pudding and cake powdered-mixes. Together with dessert mixes, Elah produces the historic toffee candies and the recent Lattelah milk tablets. With the attention that always distinguished the brand, Elah selects the best ingredients to ensure an healthy and delicious nutrion.
From the beginning of its history, Elah produces delicious puddings (with chocolate or vanilla flavor, from gianduja to hazelnut or strawberry), panna cotta dessert and the top-selling crème caramel.
With few and simple procedure method, Elah helps you prepare great cakes: the "Torta Margherita" pound cake, the gluten-free cakes (Muffin mix, Tart mix, Chocolate Pie mix) and the "Tante Torte" mix, a multi-use powdered mix with a recipe book included in the package. Ideal for the salted-bakery food, a Focaccia powdered mix is the ultimate choice.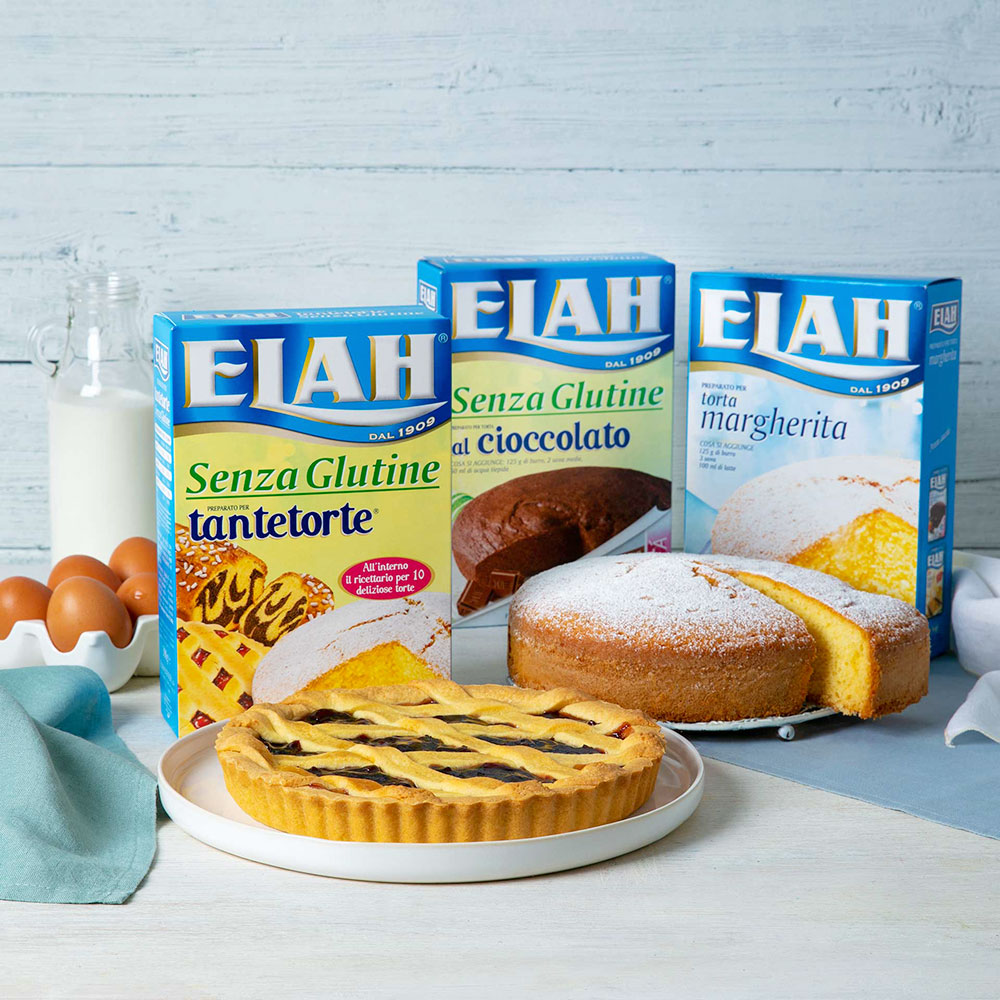 With their smooth and rich taste, Elah toffee were the first created in Italy. A creamy milk-based product, our toffee are still consumer's favorite on the market. Brand line Cubik, Kremliquirizia and Mentaliquirizia "900" still maintains their original taste and look, recently joined by the new flavor Kremcaramel.
Last addition to Elah production, these new milk tablets enhance the combination between the milk flavor and the yogurt natural taste: by adding a little honey, absolutely no dye and no aromas, these tablet are special to the youngest kids. Together with the classic milk version, Elah also produces the peach version.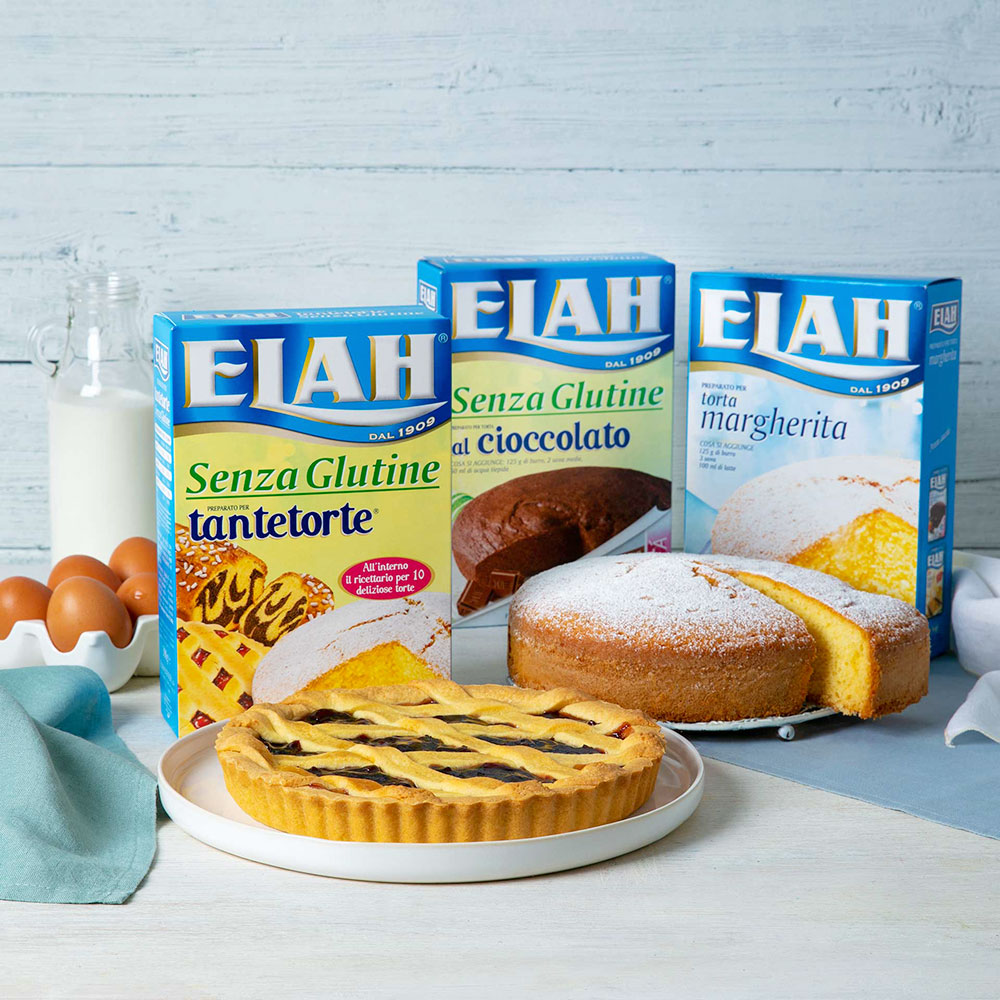 From 1926, the home of the high-quality italian candies
Since long time, Dufour candies daily enters the houses of the Italian families with a wide range of "super-special specialities", where fruit and sweetness find their sublimation, from fruit jelly Big Frut to bubbly "Selz Soda", from refreshing "Goccia Menta" to gummy "Morabon".
Proudly recognized by their 22-percent concentrated fruit juice, with a dye-free, artificial flavors-free, animal-gelatine free recipe, Dufour fruit gelly are rich in flavor, extremely smooth and ensure and intense taste. The assortment provide Big Frut line with mediterranean fruit or wild berries version, and the new "Primizie" edition, with bigger and more intense candies wrapped by transparent paper.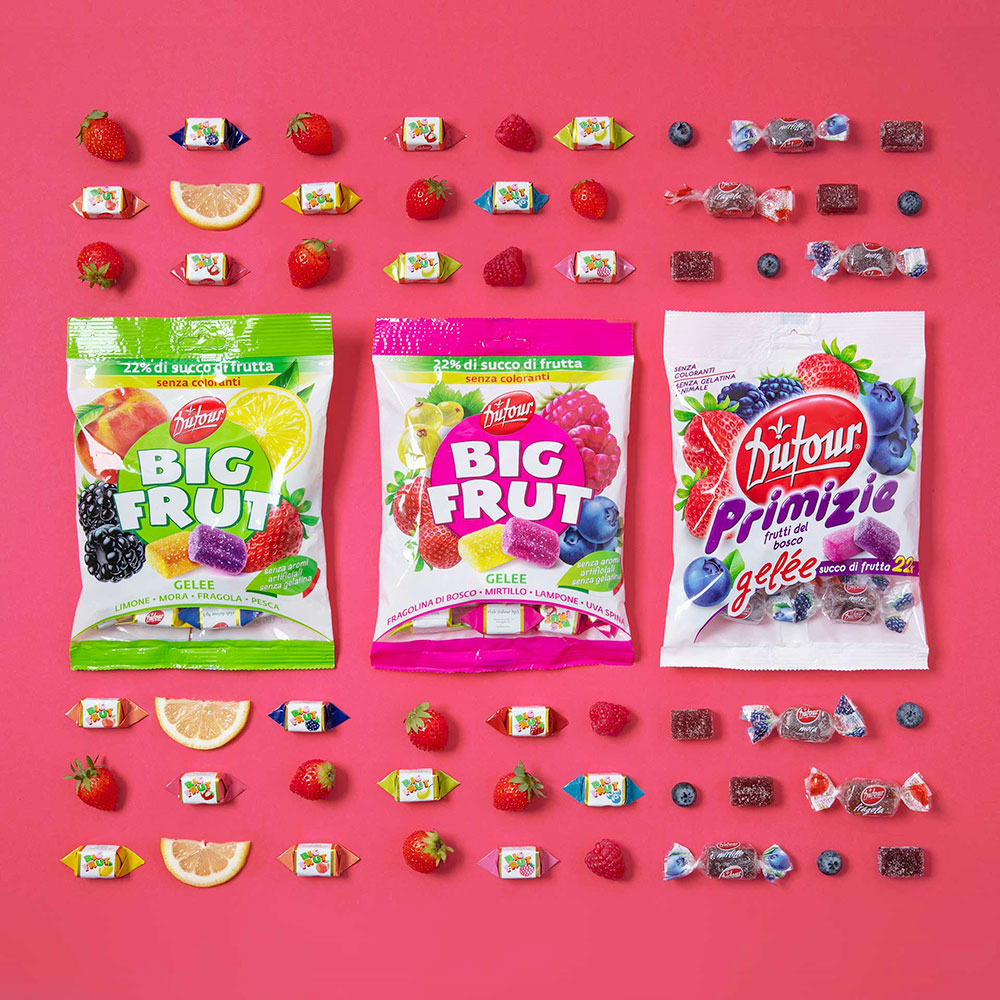 Classic and filled candies
Iconic brand of Dufour production with intact quality, GocciaMenta and GhiaccioMenta are specialities with a balsamic and refreshing filling ensured by Piemonte peppermint. Colorful and funny Selz Soda in lemon and orange version – with Mediterranean citrus oil - and Selz Cola are famous and unparalleled for their bubbly and thirst-quenching heart.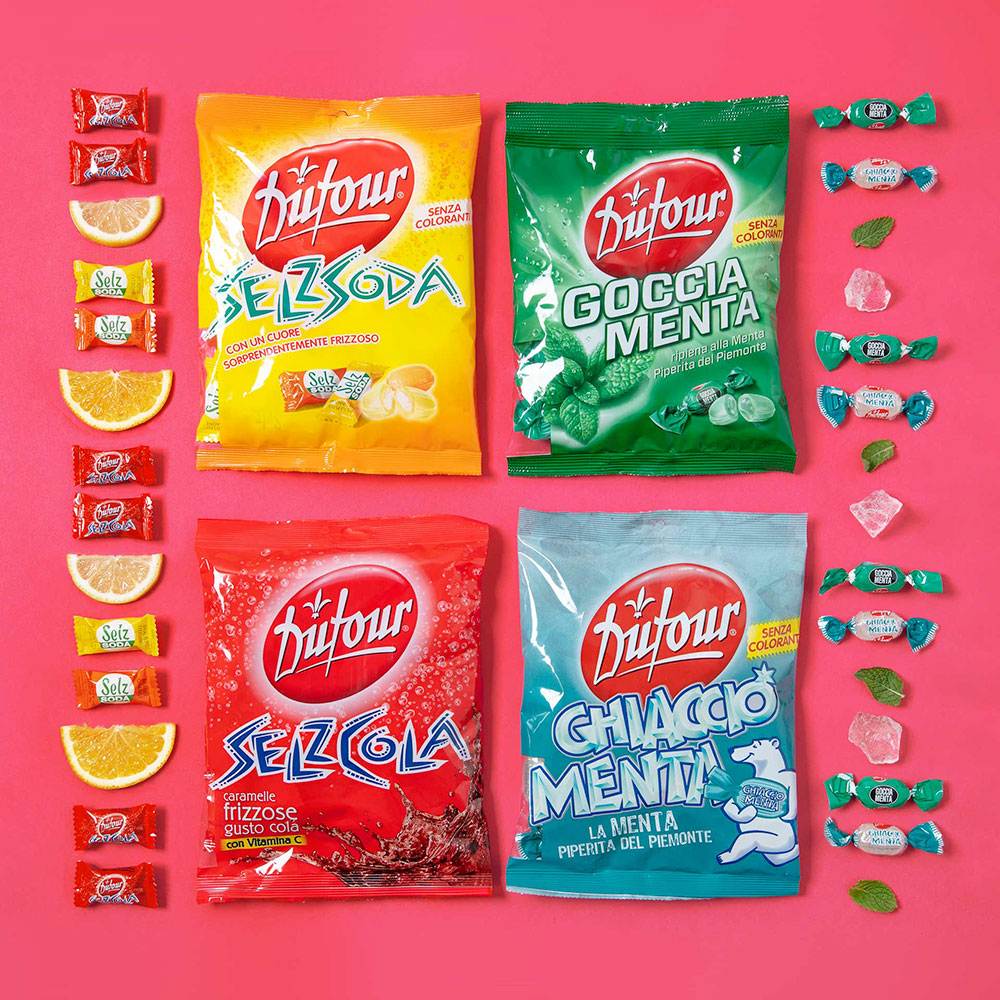 Another classic of Dufour production, Morabon is a liquorice gummy-candy, produced with precious arabic gum selected from the best Kordofan natural quality, without any dye and with juice from the best italian licorice, unanimously recognized as the best in the world. Morabon gummy candies are also available on the sugar-free version, sweetened with stevia.
Not only Morabon Stevia can guarantee the consumer a sugar-free candy line, but also these consumer-ready cases: Extreme, the strongest and most explosive balsamic candy on the market; Mentafresh, with his strong and fresh taste; Assorted Fruit versions.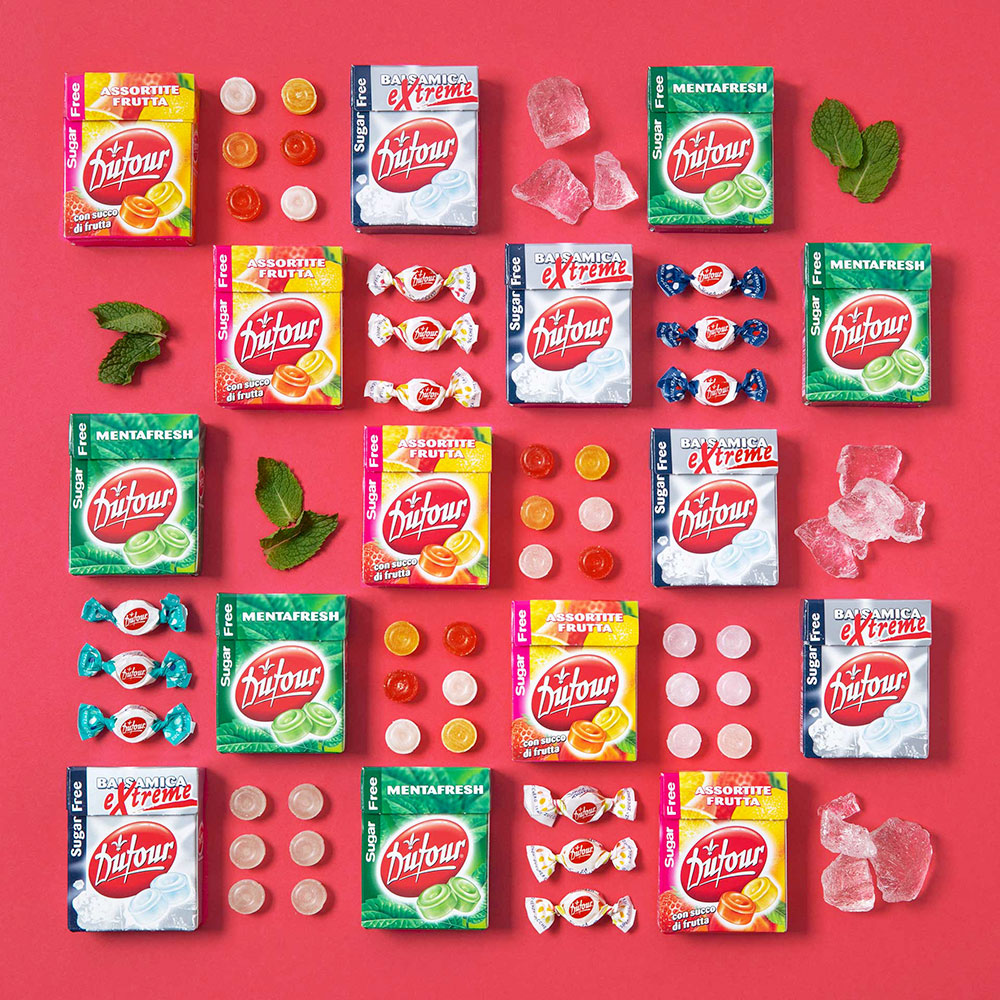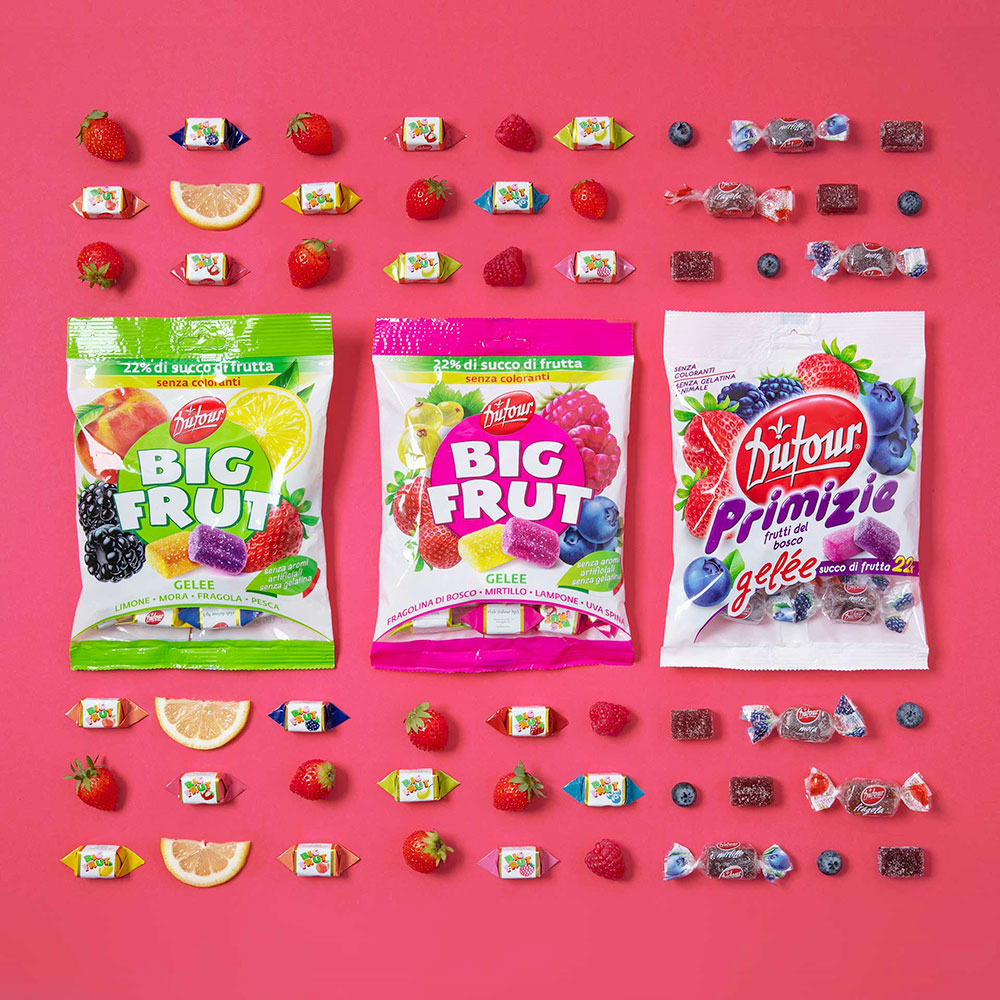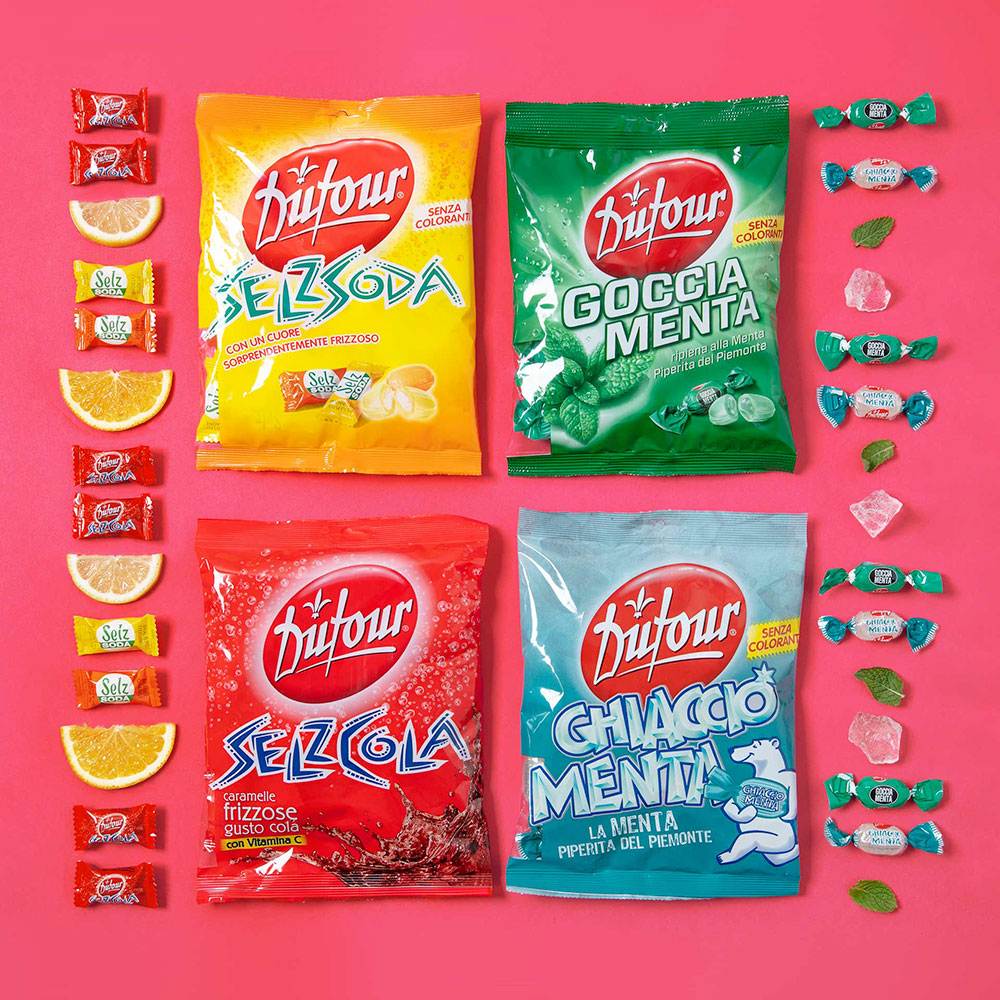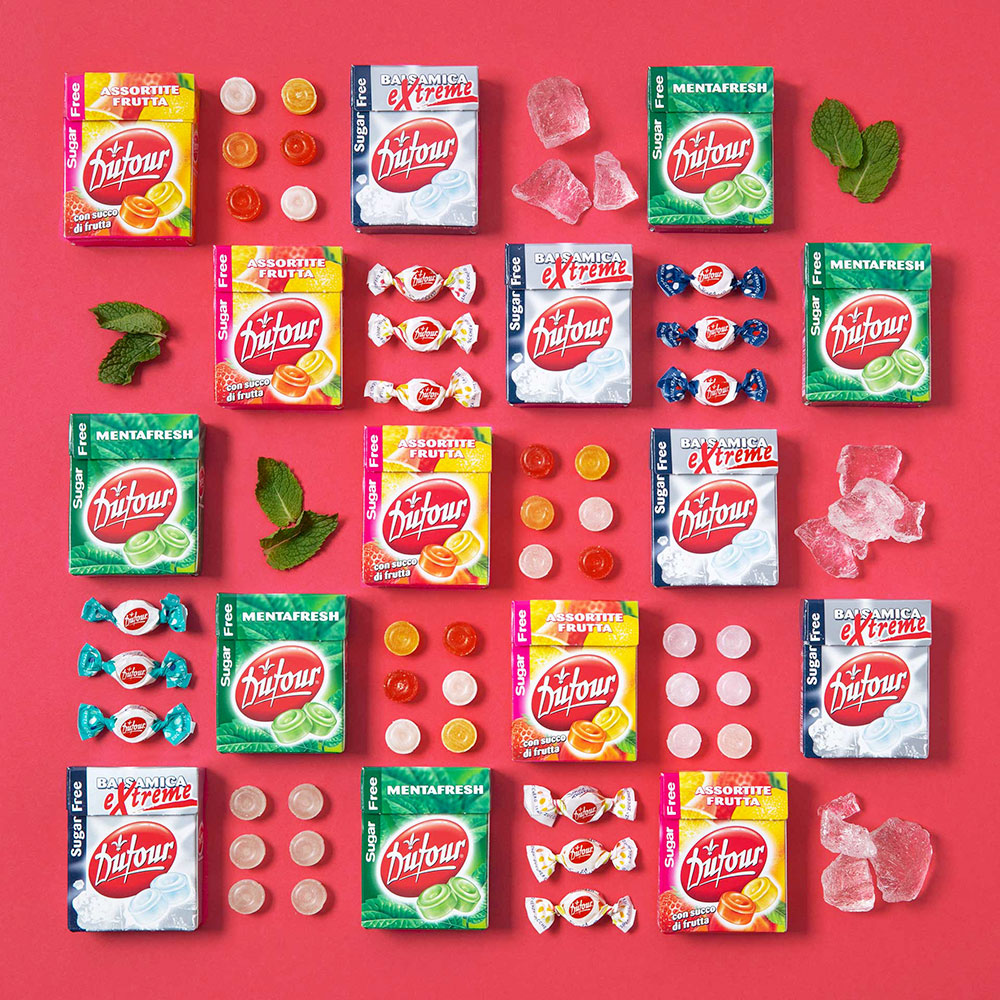 From 1903, the great italian chocolate. With endless passion.
Novi Chocolate represent the excellence and quality of the Italian confectionery: from Ecuador cocoa benas to exclusively-Italian halzenuts, Novi controls its whole supply chain with high quality check and timeless passion from the Novi Ligure production site. Thanks to top-selling Nocciolato and its specialities, Novi is leading the Italian market in chocolate bars.
A complete range of the highest Italian chocolate finesse. The Italian most-loved chocolate bars accompanies the end of a meal, the free-time with guests and friends… and a sweet escape from daily stress.
Discover our chocolate bars
Carefully preserving the '800 Piedmont tradition, Novi hands down the historic Italian pralines: the "Gianduiotti", chocolate and halzenut paste-based praline molded in their famous upturned little boat shape and wrapped in their golden paper; the cremino "Cuadro", with their soft chocolate and halzenut layers; "Otello", a Novi speciality filled with dark chocolate cream and one whole halzenut; "Mini FondenteNero" and "Minis Nocciolato", to taste Novi's best-seller in bite size.
Authentic Novi speciality since generations, the halzenut and cocoa spread Crema Novi is the spread with the highest percentage of hazelnuts on the markt (45%). Without palm oil and without the addittion of any fat other than the ones naturally contained in cocoa and halzenuts, Crema Novi ensure an incomparable spreadability. Crema Novi is an all-time favorite for breakfast, for a snack or to end a meal, thanks to the intense and unparalleled taste of the hazelnut paste.
The snack-size candy bar are great for their handy package and a well-deserved break during the day. Different version from Nocciolato Gianduja and Dark, from Fondentenero to Fondentenero Ripieno, Rice Crispies and 5 Cereals, meets the "on the go" pleasure.
BIO Hot Chocolate cocoa powder
The first BIO chocolate cocoa powder for Thick Hot Chocolate by Novi. A simple and high-quality BIO ingredient list: 30% of the best BIO cocoa, BIO brown sugar and BIO natural extract from vanilla beans. Gluten-free and without flavoring, Bio Chocolate powder is ideal for a hot chocolate with classic and rich taste, a balanced and round flavor, extremely thick and creamy.
A long-time speciality of the Company, Africano is the best nougat by Novi that superbly combines soft gianduja or dark chocolate with whole Italian halzenut. Our high-quality product, historically present under the Italian familes' Christmas tree, is joined during the Holidays by our prestigious Gold Boxes, a perfect present to share and taste our most beloved pralines, and by the last arrived "Selezione Specialità"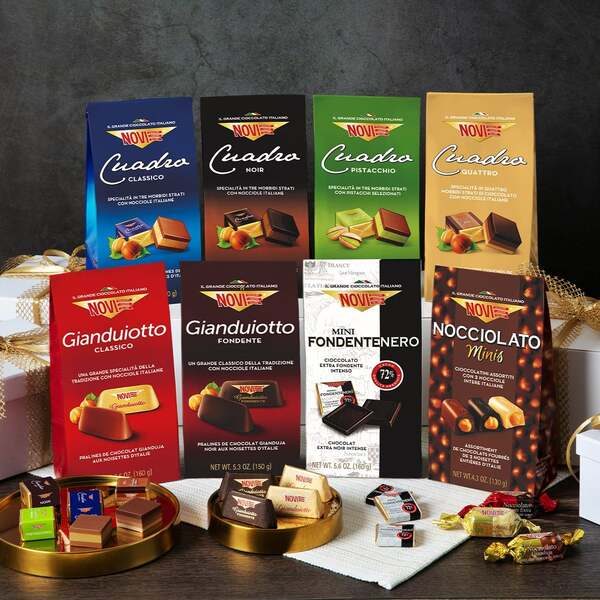 Tavolette
Classic bars
By selecting the best cocoa beans directly from their origin and roasting them in our plant, Novi guarantees for the extraordinary goodness of classic chocolate bars. The Milk bar presents whole milk as the second ingredient behind cocoa. The Extra Fondente dark chocolate bar contains a minimum 52% of cocoa.
Tavolette
Specialities
The passion, the tradition and the creativity by Novi makes it a perfect match between our Ecuador cocoa beans and special ingredients for Noisette, Latte Intenso, Gianduja chocolate, White chocolate, Rice Crispies, Milk and Almond, Pistacchio. Fondentenero dark chocolate bar – leader in the Italian market with its dinstinctive 72% of cocoa – and the newly added Fondentenero Nocciolato and Fondentenero Ripieno guarantees temper and intensity.
Tavolette
Nocciolato
Nocciolato is definitely Novi trademark as our precious whole Italian halzenut joins the quality of the chocolate we produce in Novi plant. Nocciolato is the most loved chocolate bar in Italy thanks to its different flavor (Gianduja, Dark, Milk, White, Extra Dark) and a percentage up to 24% of whole halzenut.
Tavolette
Nero Nero
Launched in 2007, Novi Nero Nero is the ideal extra-dark chocolate bar line for slow and passionate tasting. A segment of "pure" chocolate, with percentage of cocoa going from 70% to 99%, goes along with the "fruity" segment (Lemon and Gingerbread, Orange and Almonds, Raspberry and Almonds, Blueberry and Almonds, Crispy Pistachio) and the "aromatic" segment (with cacao nibs or with Mint caramelized sugar crystals) to present a very complete range of tastes.
Tavolette
NoviBloc
Novi "blocks" of chocolate are widely known since the beginning of '900, thanks to their dual use of delicious tasting and home-made preparation of desserts. Both versions (Novibloc Latte and Novibloc Fondente, with dark chocolate, recently joined by 70% dark chocolate) are available with two size – 159 g and 500 g – perfect to play a star role in every Italian kitchen.